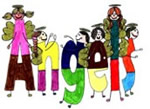 Angels Support Group
Angels is a voluntary, parent-led registered charity set up in North Hertfordshire to support parents and carers of children with Attention Deficit Hyperactivity Disorder (ADHD) and/or Autistic Spectrum Disorders (ASD).
Angels was formed to help families in the community in desperate need of support for themselves and their children. All of their volunteers have children with either ADHD or an ASD and are committed to providing a resource that people will find useful and accessible.
Raising a child diagnosed with ADHD or ASD without the right support can be very challenging for anyone; Angels' aim is to help empower parents and carers encouraging them to feel confident in supporting their child both in the home and educational environments.
The group sessions are adult only time and offer friendship, support and idea sharing with the aim of reducing any feeling of isolation the parent and carers may be experiencing. There is plenty of opportunity to talk freely and discuss issues and concerns with others who can understand the difficulties encountered in raising a child with these conditions. Angels' members support each other and offer a friendly meeting place to talk about all kinds of related issues.
Angels meet in Hitchin, Stevenage, Royston, Letchworth and Baldock where they offer one-to-one individual family support sessions and have a lending library with an extensive range of books that can be borrowed by members.
Click here for the link to further information or contact details below
Contact information
Telephone: 07815 458355
Email: leise@angelssupportgroup.org.uk
Telephone: 07718 755167
Email: jane@angelssupportgroup.org.uk